Before committing to Saladita I did a lot of Mexico traveling in my Ranger pick up with a camper cap. I loved that rig.
Problem was, I was also traveling with a trailer – packed with camping gear and so forth. When I drove up to California last year I left the camper and trailer behind, in Saladita, knowing I'd soon be back. What I didn't know was that in order to legally remove my car from Mexico, I had to remove the trailer (not the camper, which is considered a 'cap' and has no paperwork for comings and goings).
They wouldn't let me check my car out of Mexico without the trailer. I left anyway, just drove out without doing any paperwork.
Which means I can't drive into Mexico. On their DMV computer, I'm a bad boy.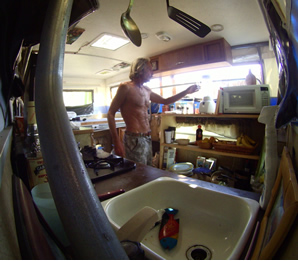 So: I have no way of removing my camper from Mexico. (I have no desire to remove the trailer since it's great for storing my stuff while I'm in the States.)
If you have a compact pickup (or larger) and are interested in either buying the camper down here or getting paid to haul it back north, email me and we'll figure it out. allan@banditobooks.com.
Specs: I bought it new in 2007 for $10,000 then spent $1,000 more installing a solar panel charger for the internal 12 volt battery (which also charges when you run the engine). Full kitchen (four burner stove and oven), fridge that works on 12 volt, propane and shore power; double bed over the cab, 6'3" headroom when the pop top is raised.
I'll sell it for the rock bottom price of $3,000, or pay you $500 to bring it to within 500 miles of Montauk. (A thought: Drive down in your pick up, use it for a surf trip in Mexico, then bring it to the States – if we go with this one, I'd need a deposit.)